tractors, trailers and specialty
equipment
TRACTORS, TRAILERS AND SPECIALTY EQUIPMENT
Contract, rent or purchase freight hauling and trucking heavy equipment.
We also offer a workshop certified for Peterbilt warranty work.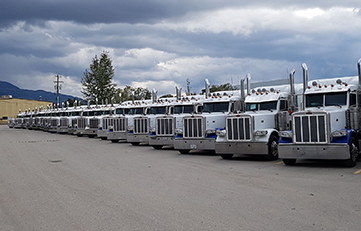 ATS operates a large network throughout Western Canada and the Pacific Northwest regularly for the agricultural transportation of products, forestry, building products horticultural supplies and waste material (such as drywall and compost).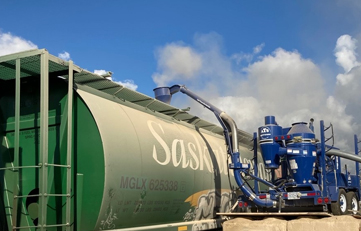 Whether you require transloading from railcars or specialized equipment to load or unload freight or commodities…ATS can assist with side-dumps, end-dumps, grain Vacs and more.
CONVERTIBLE AND HARD SIDES
Convertible trailers are ideal for the agricultural transportion of various products, such as lumber and grain throughout Western Canada. Capable of 42-43 metric tonne loads, the versatility of convertible trailers allows us to provide highly competitive pricing on both bulk hopper and deck freight. Traditional hopper grain trailers capable of 42-44 metric tonne loads. These are the perfect trailers for maximum load capacity on bulkier materials such as Screenings.
auger, belt, liquid and pneumatic
Offers efficient delivery of commodities to tall feed bins and to storage sheds in tight quarters. Quick load and unload of products for farms or large-scale landscaping projects. Air-tight cylinders used throughout Canada and the USA.
grain vacuums & Tridrive Delivery
A small tridrive bodyjob unit is available for auger delivery into tight farms. The ATS Tridrive unit offers ultimate manoeuvrability in and out of narrow or confined locations. The Tridrive unit comes equipped with a Grain Vac Transfer unit making it the perfect choice for feed transfers.
Do you have a load you need transported? Are you a carrier looking to reduce your empty
miles? Contact us, we will work with you to develop the right freight partnership.
PO Box 188, 2200 Kirton Ave, Armstrong, BC, V0E 1B0
[contact-form-7 id="949″ title="contact form"]